It's been a week since the concert! Wow. Okay, so here's the pert dos of my Katy Perry concert experience.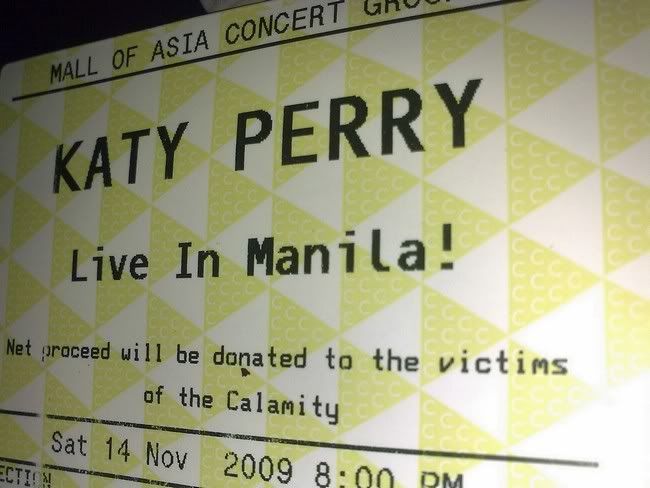 While arriving in the venue, we got lost because I thought the concert grounds were at the old concert grounds where the David Archuleta and David Cook concert was held! I was wrong. The concert grounds is now located near the SMX Convention Center. There were a lot of people in the VIP area already and it was just 6pm. Coming in to the VIP area, it was surreal! I was like..
"Oh my gosh, there's the stage. Oh my God, Katy Perry will be performing tonight!"
I was like freaking out and wanted the clear view but these stupid rich kids were like,
i-am-so-rich-and-i-have-an-english-slang-so-i-need-to-stand-here-infront
. I loathe them. Gross. They were scandalous for crying out loud! They look like crappy judgmental people and they also look irritating. Wow. Thank God I'm not in their shoes. They think they're superior and perfect. I hate those kind of people. It's HANNAH not HANNN-uuh. English slang my ass. And this girl was talking to her driver and it's SO obvious she wants to speak in Tagalog already. But she knows she's with her friends so she's like trying hard to make her conversation with her driver Taglish. Haha. Poor driver.
I stood up there with my sister for like two hours. It was hot, annoying because of those bratty rich conyos and I can't even feel my legs that time! The fireworks was beautiful but it was short.
Then finally, Sib, Andi Manzano and Eri Neeman introduced the first performer -- which was
MAE
. They were not that bad. They kinda sound like
Death Cab For Cutie
.
Then Tado, Angel and Ramon -- the Brewrats went out to introduce the next performer
Jed Madela
. I was like
"Whoopee :|"
Not a fan of OPM since I don't know when. I just don't like trying hard. But just some! I actually like a little songs by OPM artists a long time ago. Sarah Geronimo is the best. Oh, and Jed Madela's performance -- wow. I stand corrected! I found myself singing along with the songs he was singing. I enjoyed his performance.
Then my favorite - Vicky Herrera and Sarah Meier
(The Dollhouse)
introduced
Journey
. I was so excited seeing them perform because I fell inlove with Glee's "Don't Stop Believing" :) Plus, Arnel Pineda the lead vocals is Pinoy! Yaay.
Then again, Sib, Andi Manzano and Eri Neeman went out to introduce
Katy Perry
! We waited for 10 minutes more. My feet was dying already. Then Katy Perry's band mates got out with very adorable white outfits! It was incredible. I videotaped the whole thing so I will not miss it.
Then, Miss Katy Perry herself went in the stage and I was like
"OH MY GOD!!!!!"
with my sister of course. She looked like a living doll! Very flawless and beautiful.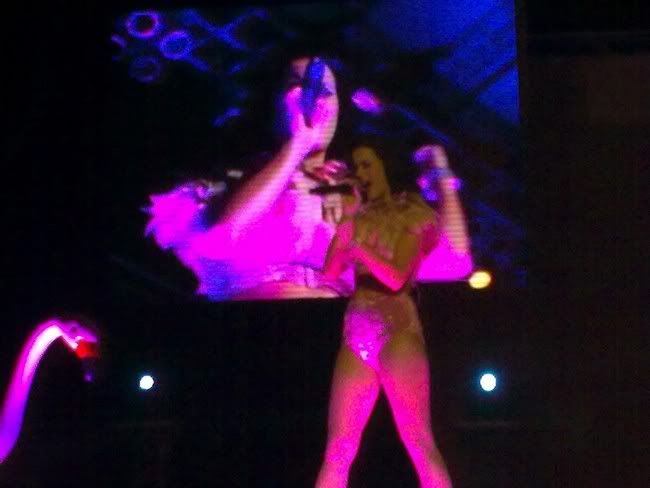 She performed Fingerprints first. She sung every song in her album, I guess! It was an incredible experience! The worst part is not getting the strawberry inflatable balloons, Katy's necklace, Katy Perry shirt, water bottles and etc! But who cares. Hahaha. It was not for me and there's always a next time!
The Atenean dude got a chance to kiss Katy Perry on stage after her Hot N Cold performance! I was used to it already because I saw Katy Perry's performance in the Hurricane festival in Germany and she kissed a girl during her "I Kissed A Girl" performance. Oh, Katy! :)
I am trying to do a vlog about it but Windows Movie Maker is crappy and being gay. So I can't :(
I will try making it and will post it in here as soon as possible!