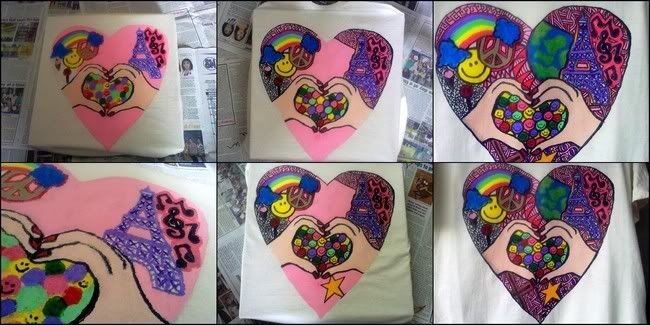 Last year, I went to the
Artwork
store and saw the salesladies wearing "Arteest Ka Ba?" aprons. It is the 3rd annual Artwork t-shirt design competition. I immediately asked them about the contest, then they told me the contest was closed already. I was too late.
This year, I finally joined the 4th annual Artwork t-shirt design competition with the theme: "Happy Arteesta Ka Ba?" :) Here are some informations about the contest:
Mechanics:
1. Open to artists from 13 to 30 years old.
2. Register at any Artwork branch nationwide with a PHP 120 fee to receive a plain Happy t-shirt and an entry form.
3. Use any technique (such as silkscreening, hand painting, quilting, mixed media, appliqués, tie dye, distress, etc.) for your design.
3. Submit your HAPPY T-shirt/entry with a filled out entry form and attach a photocopy of your birth certificate. Take them to Artwork branch where you registered.
4. Only one entry per person.
5. All entries must be submitted on or before the closing hour of each store on October 31, 2010.

Prizes:
Grand Prize: MacBook- 13.3" laptop
Second prize: - PHP 15,000
Third Prize: - PHP 7,000
7 Finalists: PHP 3,000 each
Arteest's Choice Award: PHP 3,000
The title of my entry is "Fill Up Your Heart With Happiness ♥"
I hope my shirt design will inspire people to put a smile on their faces even though they are going through a lot of problems :)
Fingers crossed! I hope I'll be one of the finalists! ☺ Please pray for me.