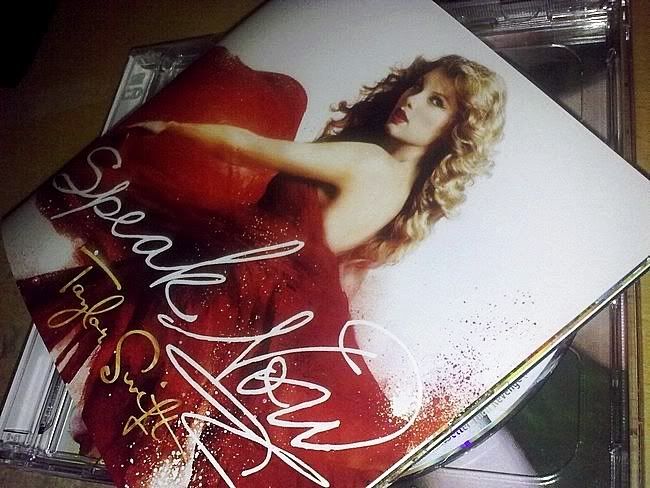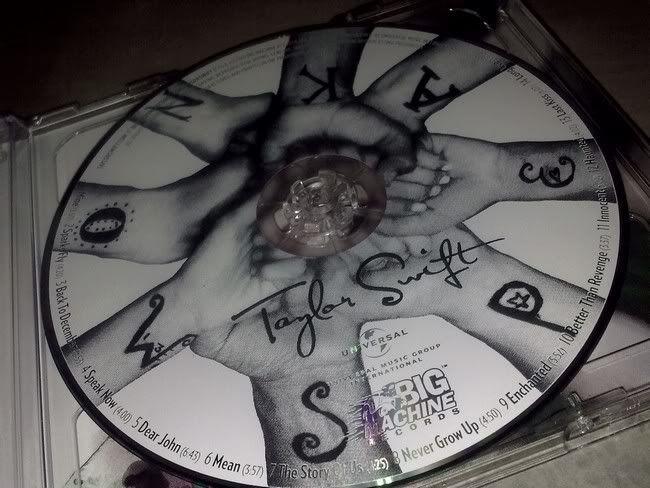 Just recently bought Taylor Swift's "Speak Now" album which was released last Friday (October 29, 2010) here in the Philippines.
I loved country music because of Taylor Swift. I really don't get why some people loathe country music. To be honest, this was the very first Taylor Swift CD that I've bought my entire life. Bought the Fearless album for a friend a year ago... now planning to buy the album for myself, but I guess not anytime soon because I'm trying not to splurge at the moment.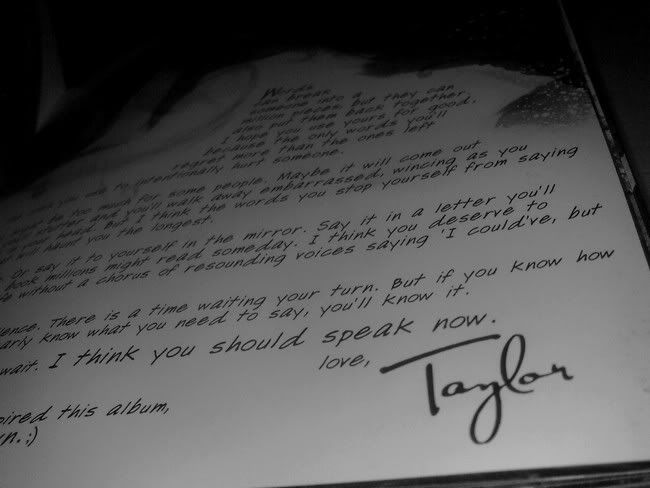 When I buy a CD, First-- I search for the magic words: Deluxe Edition.
I love deluxe edition CDs! They have so many songs and videos in it. The Speak Now CD contains 22 songs + 3 videos. It was really worth it.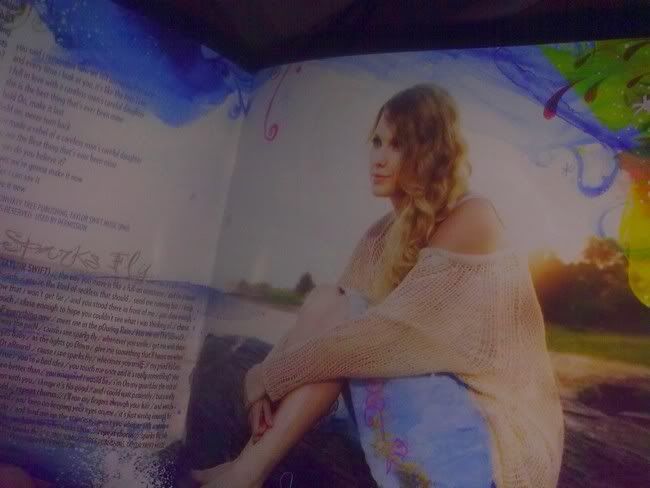 Taylor Swift - Speak Now Track Listing
Better than Revenge - 3:37
Deluxe edition Bonus tracks (CD2)
If This Was a Movie - 3:54
Back to December (Acoustic version) - 4:52
Haunted (Acoustic version) - 3:37
Back to December (US Version)
The Story of Us (US Version)
This is the third studio album of the very talented Taylor Swift. As always, she writes about the happenings in her life especially about heartaches. My ultimate favorite from all of the songs are Back To December. I got so excited when I saw that there were three versions of the song. The standard edition, acoustic and US version. All the versions were lovely. I was excited also to purchase this album because of the hidden messages in the songs.
Mine
[TOBY]: This was her first single from Speak Now. It has a catchy tune and whenever I hear this part of the song: "Brace myself for the goodbye cause that's all I've ever known. Then you took me by surprise. You said "I'll never leave you alone" I always get butterflies in my stomach ♥
Sparks Fly
[PORTLAND OREGON]: "Cause I see, sparks fly whenever you smile" ♥ This is a feel good song. Listeners can paint a picture in their minds just by listening to this beautiful song.
Back to December
[TAY]: "
Then the cold came, the dark days when fear crept into my mind.
You gave me all your love and all I gave you was goodbye.
"
This is a very emotional song but
I absolutely love it. I can really picture Taylor Swift and Taylor Lautner whenever I hear this song. Taylor Swift is a really talented songwriter.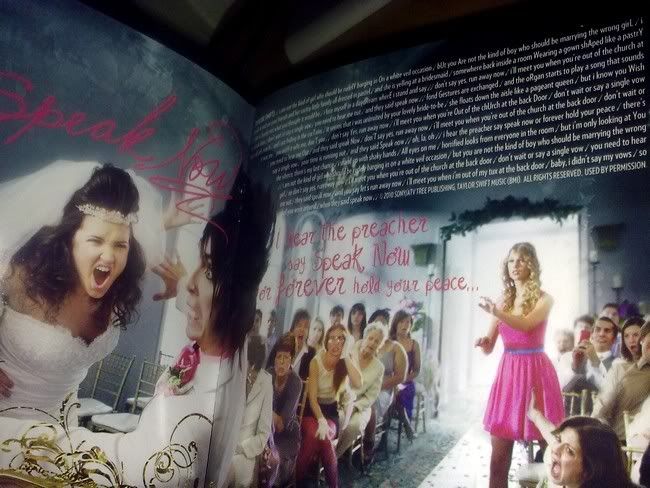 Speak Now
[YOU ALWAYS REGRET WHAT YOU DON'T SAY]: Another catchy cute song by Taylor Swift. The secret code says it all. When you want to say something, say it because you will regret it in the future.
Dear John
[I LOVED YOU FROM THE VERY FIRST DAY]: This is rumored to be about John Mayer. Talks about the relationship they had. I really love Taylor Swift's vocal range in this song.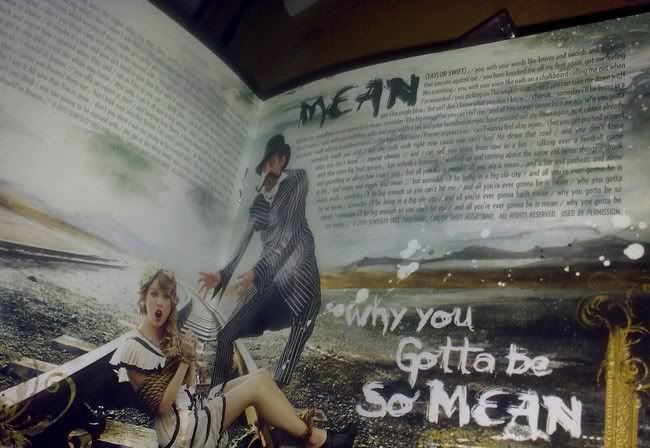 Mean
[I THOUGHT YOU GOT ME]: I can really relate to this song. In life, there are really a lot of mean people. The world is not perfect! This song inspires me especially when I hear the part: "Someday I'll be living in a big old city..."
The Story of Us
[CMT AWARDS]: A song that is obviously about Joe Jonas. This song was about seeing each other in the CMT awards. I love listening to the part: "But you held your pride like you should have held me." I wonder what Joe thinks about this song?
Never Grow Up
[I MOVED OUT IN JULY]: One of my favorite songs from the album. I remember my mom whenever I hear this song ♥ "Don't you ever grow up just stay this little, Don't you ever grow up it can stay this simple."
Enchanted
[ADAM]: A beautiful soothing song. I wonder who is "Adam"?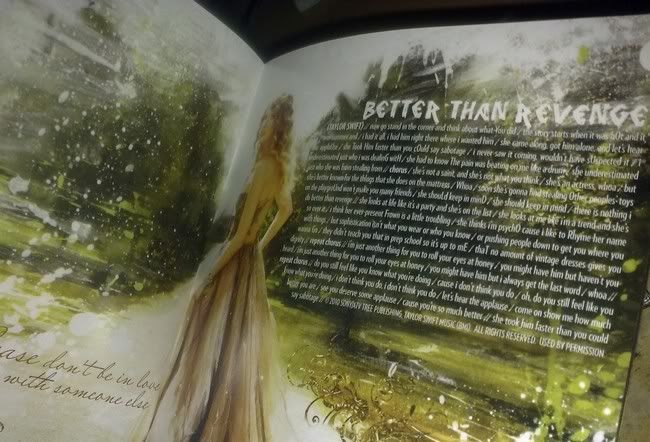 Better Than Revenge
[YOU THOUGHT I WOULD FORGET]: A song about Camille Belle stealing Joe Jonas from her. I actually love this song! I am not Team Swift or Team Camilla -- I love them both! But this is really a fun song :)
Innocent
[LIFE IS FULL OF LITTLE INTERRUPTIONS]: A song about Kanye West. I loved this song the first time I heard it. When I heard that she was going to perform a song about Kanye West, I really thought the song was going to be a funny one, turns out it was really serious.
Haunted
[STILL TO THIS DAY]: I think she is filming a music video for this song. Another emotional song.
Last Kiss
[FOREVER AND ALWAYS]: Also, one of my favorites from this album. This song is sad but when you listen to the song you can still feel that Taylor Swift still loves Joe. Sigh, why does Joe have to be a jerk and leave Taylor.
Long Live
[FOR YOU]: The tune of this song is really familiar but I can't remember where I heard it. I love this song! The title speaks for itself.
I really think her "Speak Now" album will be nominated or even win the Album of the Year for 2010 just like last year.