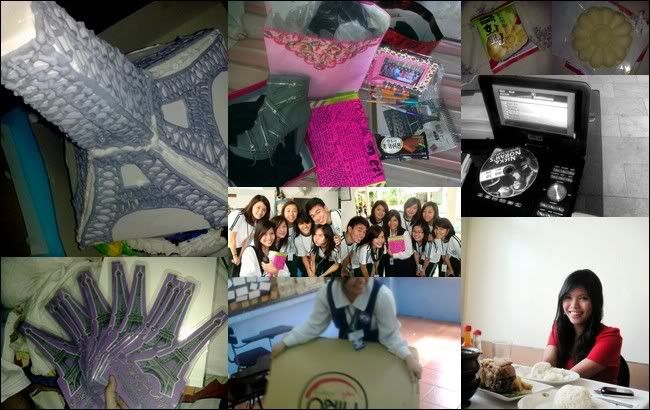 I still can't believe that I am eighteen years old! Last year when I turned seventeen, I was sick. I got a fever and didn't have the guts to celebrate my own birthday. Pretty sad, right? This year, I didn't expect that much. But I was really blessed! Those "Expectations/Reality" clips from (500) Days of Summer with my so-called expectations and reality are always popping in my head like crazy, but I have good expectations and good realities. If that's what you call it :-)
Weeks before my birthday, I decided that I really want to have a celebration -- not a debut with those "eighteen roses/candles" crap... just a birthday lunch with a small group of friends. I went to ClickTheCity and browsed a whole lot of restaurants there. I really want French cuisine, because my invitation is an Eiffel tower. I searched everywhere but it's either -- too far or too expensive. I was so shy to ask my mother's permission if I can have a mini celebration. Then finally, after finding a perfect location for my birthday party, I asked my mother's permission. I said that I have computed each meal already + how many people are attending. She accepted and even offered to pay for everything! :)
On the day of my birthday celebration which is three days before my actual birthday, I went shopping for my birthday outfit first. I bought a red dress. It was not part of the plan that day but I wanted to treat myself :) Goodbye a week and a half allowance! But it's all worth it. At the party, there were three who didn't arrive which is sad because I could've invited three other people if they weren't coming. But I was happy that almost all of my invited friends came. We ate a lot and took photos.
On my real birthday, last Tuesday -- I was really happy because it was our recollection. Early dismissal and no lectures! After the funny, interesting recollection I treated my classmates. I ordered a gigantic pizza from Pizza Niro. It's a 30-inch, all meat toppings pizza. It was SO huge, one person can't even carry it by his or herself! Also, this day was so memorable because during lunchtime, we were just hanging out by the new Plaza Amistad in our school which included lots of wooden tables and chairs. Then I noticed that some of my friends were not with us. I started wondering why, but I was playing Bejeweled 2... so, I kind of didn't care of what was happening around me.
Then, my friends surprised me with an Eiffel tower cake!!!! It was my dream to have an Eiffel tower cake ever since! It was so beautiful. Also, they surprised me with a Parisian booties ala Balmain in gray. It was such an amazing experience to feel loved and very blessed to have friends like them.
On October 6, another unbelievable thing happened. My barkada from my previous school visited me! Lunchtime, when we were just strolling around the campus, I checked my phone and surprisingly my best friend Erika was calling me! I didn't know because my phone was on silent mode. Then she told me to go to the front gate. I didn't expect them to be there. I was so surprised! I can't believe I got to see them again ♥ I was so happy that day. Then, when I returned to the social hall, I peeked at the gift they got me because it was kind of heavy! Then, I read the word: Multimedia. I really had NO idea what was the box! Then, my jaw actually dropped when I saw: "Portable DVD Player" Oh my gosh. I was saving up for a portable DVD player since last year but I'm always indecisive if I should really get one! Now, I don't have to decide ;) Actually, I always use my portable DVD player! The first movie ever played was: Nick and Norah's Infinite Playlist.
But birthdays are not about the gifts -- it's about the friendship.
I really can't believe what my friends did for me. I also can't believe that my family and friends think that I deserve all the things they have given me.
All I can say is that I am truly happy and thankful for my loving friends and my wonderful family.