I recently won a ticket to the
Graphika Manila 2010
from Christian San Jose through Facebook. Graphika Manila is an International Multimedia Design Conference and it's their fifth year already. It's my first year to experience Graphika Manila. I thought Manila Design Week started last Monday, turns out the start of Manila Design Week is the Graphika Manila.
I went to the venue -- SMX Convention Center around 9:30am. There were a lot of people eating outside and still buying tickets. I immediately got the conference kit and went inside the Function Room (
I miss fashion week!!
) When I got in the function room, I browsed the sponsors' corner first. Then, I searched for a decent seat but all the decent seats are already available, unfortunately. So my view was like... imagine this:
Me
>
Lots and lots of tall or should I say big headed people, literally
>
Stage with the speakers
While waiting for the conference to start, I browsed the conference kit. I love getting freebies! Inside the kit was a Graphika Manila pencil, ADOBO magazine, Graphika Manila 2010 book, Schedule, stickers, Grpahika Manila ID and a Graphika Manila tote bag! :)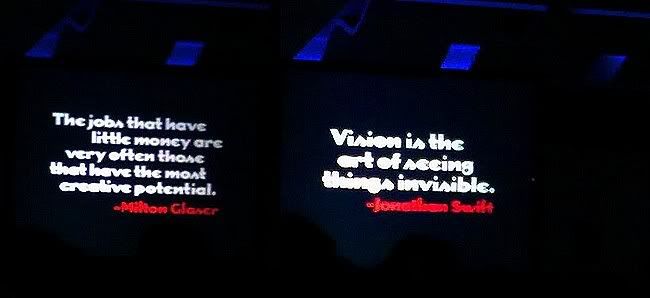 The first speakers were husband and wife,
Cynthia and Arnold Arre
-- I had no idea who they were but they were awesome speakers!! One of my favorites. They talked about their works and I was very inspired with their "learnings" so I jotted down everything on my notebook.
Have a big idea
Communicate not just decorate
Design for your target audience
CREATE = Connect + Relate
There are projects you take to pay the bills
There are projects you take for the love of it
The best ideas are in the simplest drawings
Challenge yourself
The second speakers were
phunkstudio
. Honestly, I didn't like their talk. Mainly because I cannot understand what they are mumbling --- the microphones were awful + their Singaporean accent... or maybe because I was seated so far and I was just annoyed? Haha. I just like some of their artworks.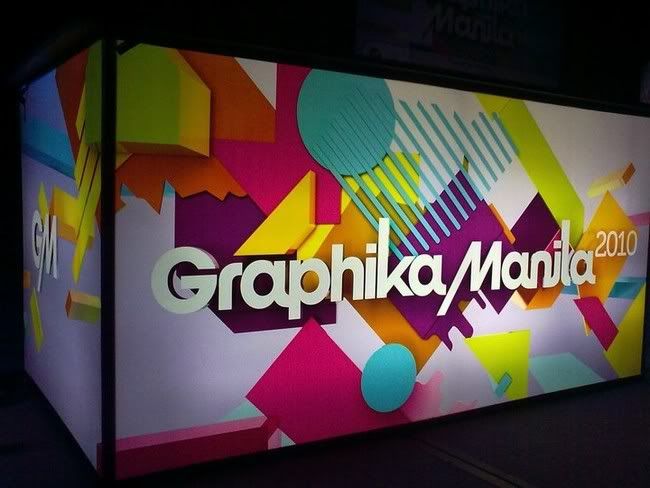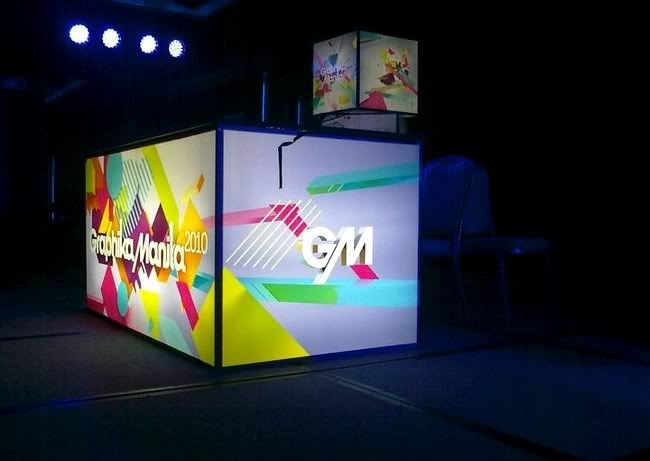 LUNCH BREAK. Everyone was like:
"Faaaaaynaliii
!" It seems like almost everyone was hungry. I wasn't. So I just stayed inside the venue and finally got a decent seat!!! :) Funny when I was searching for a seat, everyone's seat had like their conference kits, a red bull, a stupid rude notes like: "This seat is taken butt crack" yadda yadda yadda. But thank God I got a decent seat! I saw Tara McPherson but I was so shy to approach her.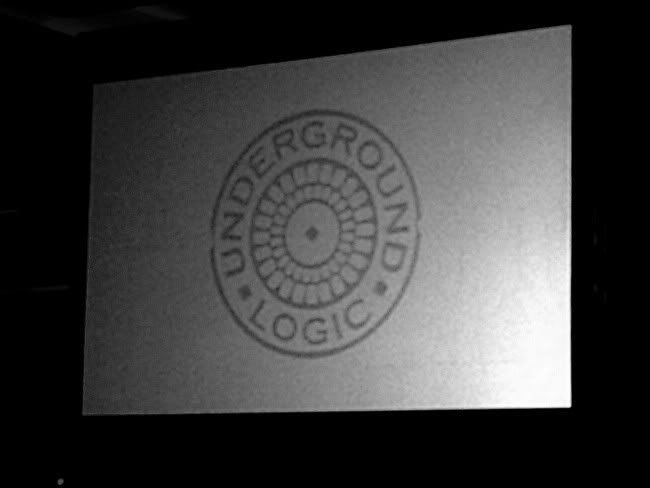 After an hour, the conference afternoon session began. The first speaker for the afternoon was
Underground Logic
. This speaker was also inspiring! They made a lot of commercials already and the company started out with just a few members, but now their company grew. I want to work with them someday!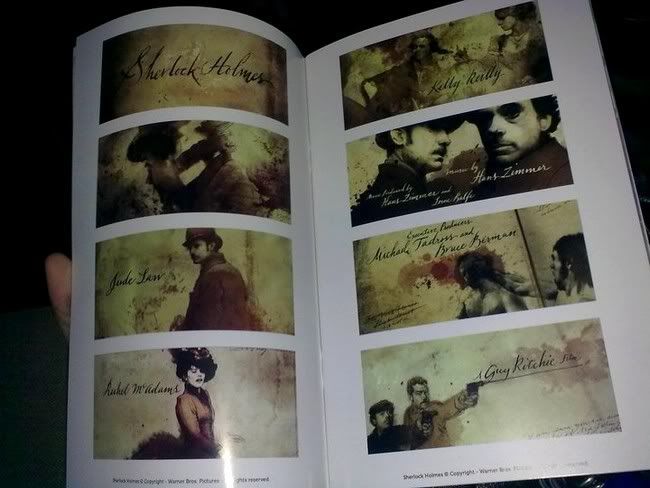 Next speaker was
Danny Yount
. Yes, the dude who made the end credits for Sherlock Holmes, the opening sequence for Six Feet Under and the effects for Iron Man! This man is very very talented. I love the random videos and photos he shows in every slideshow, maybe because he think his talk will bore us but as far as I know, everyone's jaw was dropped because of his skills.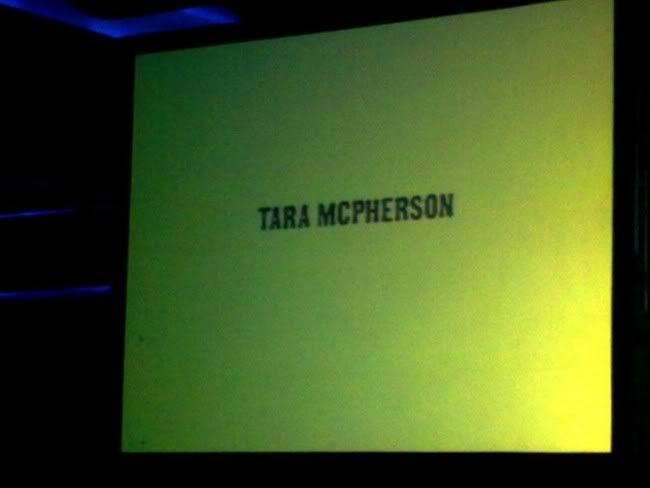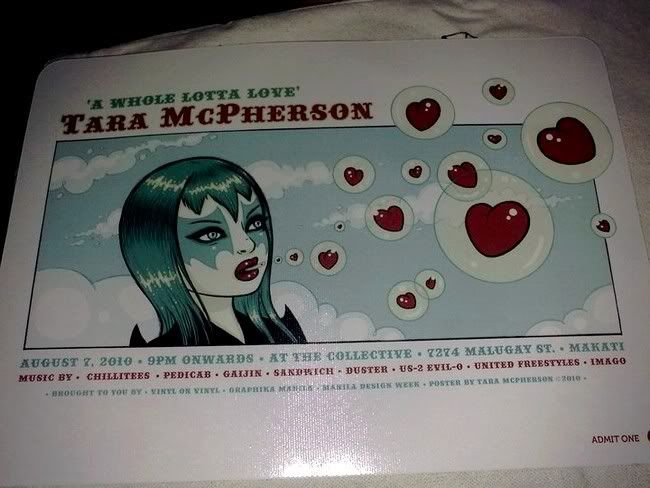 The next speaker was
Tara McPherson
! She's so relaxed and fun. I love her works and I want to be like her someday! :) I would also love to make album covers for the bands! I think I took a lot of photos of her works. I took photos of every single thing that pops in the slideshow. Pure awesomeness. I love creative people!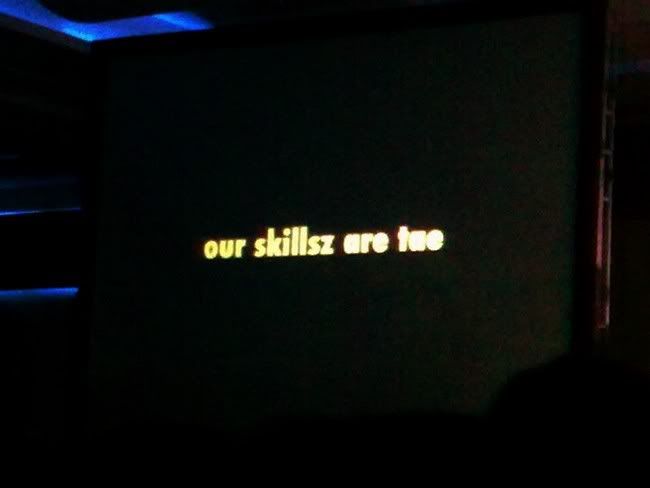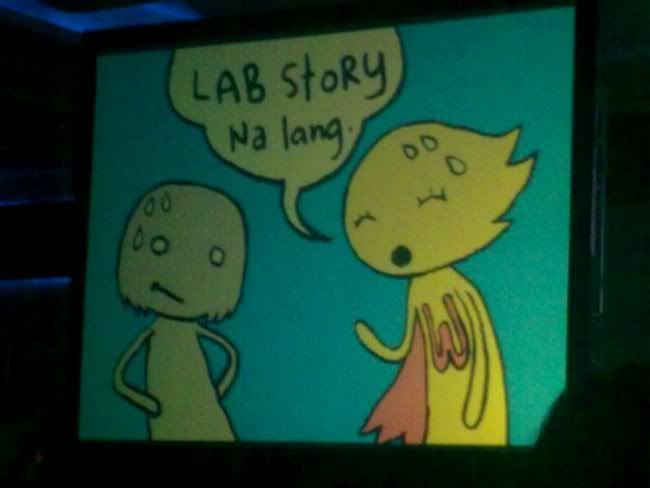 Then, last but not the least--
AVID LIONGOREN
!
He was the crowd's favorite.
Words of the day = pakshet, jejeffects, dayamotion.
When he talks it seems like he really really loves what he's doing! So Pinoy. Honestly, I was more inspired with the Pinoy speakers! :) They were like:
"YOU ALL CAN DO THIS WITH HARDWORK!! GO!!! THINK POSITIVE!
!" I want to watch Saving Sally. When I saw it on the Graphika Manila book, I was like: "Cheap pinoy film yet again" but when Avid explained what they were doing I was so amazed.
After the talk, there was a raffle! I really wanted to have the Tara McPherson book and the iPad! But I didn't win anything. It's all good ;) I wanted to win the iPad for my mom! She loves playing games like Cake Mania and Text Twist! ;)
What a wonderful interesting Saturday!
But I'm sad I missed the Math Camp in De La Salle University :(