I still can't believe that I won the
YapForGrabs
contest in just one try! I won the Katy Perry VIP concert tickets after five tries of joining the contest... but still, worth it! It's VIP baby :)
When I heard that Paramore is coming to Manila -- I was not that excited because I know I can't afford the concert tickets and I also thought that I cannot win VIP tickets again because MTV is not advertising the Paramore concert. I was super excited for The Killers' concert here in Manila but it was cancelled --- RIP Jean Flowers :(
Anyway, just yesterday I read
@iamtimyap
's two recent tweets saying:
"It's time to get creative! Trace the evolution of @iamtimyap by making a collage of Tim Yap photos"
"The winner of the
#YAP4GRABS
challenge will get a
Nokia 5230 phone AND a Paramore VIP ticket
for their upcoming concert. Yippee Yap Yay!Go!"
After reading it I really wanted to join because I know I can make a photo collage (
Thanks to
PhotoFiltre
) plus, I've been replaying Paramore's
Brand New Eyes
album over and over again and I'm inlove with it! I created the collage for three hours straight after watching Love Happens, which by the way is one of the best movies ever --- love the quotes and it's a very touching story :) Anyway, this is my collage: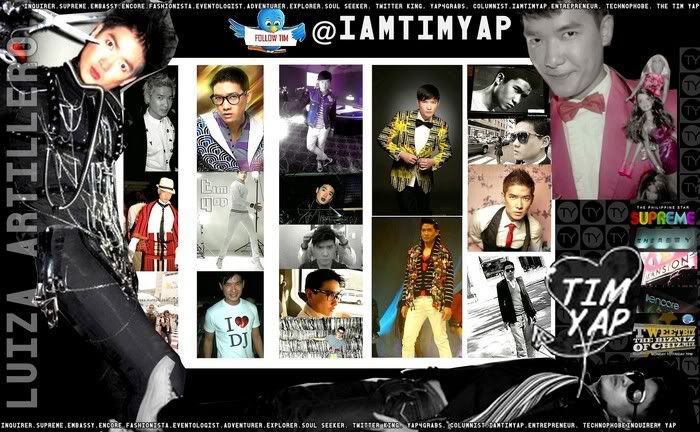 The theme should be the evolution of Tim Yap. My collage wasn't really the
"evolution
" -- the theme was so hard! So I didn't expect. Expectations are really hard to reach. Also, at one point in my life, I expected too much but just got disappointed in the end :| So, eff you expectations!
Today, February 20 -- People keep retweeting my collage. Thank you so much! Then just awhile ago, I was shocked to see that Tim Yap himself retweeted the tweet of my collage! I still don't know if I won so, I was just so happy that he retweeted it.
Then after a few minutes he tweeted that I was the winner!!! I was super speechless and all I hear from my mouth was the words "OH MY GOD" I said it like a bajillion times after reading it. Then he also tweeted that I was gonna win the The Killers: Meet and Greet but the band cancelled the concert --- Again, I was still hyperventilating and more OH MY GOD's. Even though I haven't met my loves, it's all good! I will meet them some other day. I love you Brandon Flowers! :)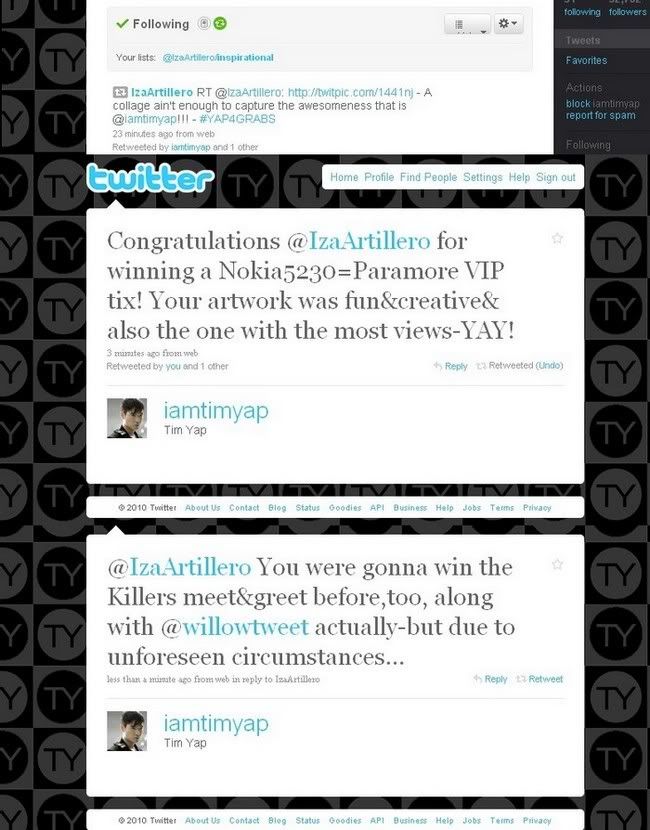 I kept thanking Tim Yap because he picked my collage :) PLUS, My sister will have a new phone! The Nokia 5230 phone that I won also from the YapForGrabs! Yes, Tim Yap is super generous. I won the phone plus the Paramore VIP ticket!