There's a Christmas party held in our school yearly on December 17.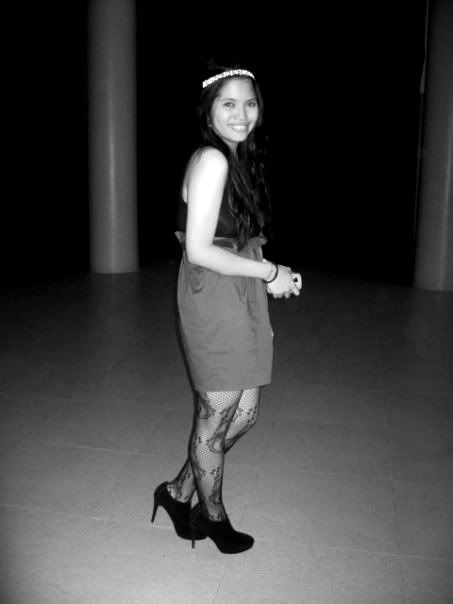 Last night was incredible! I never thought I will dance till my feet died. I'm shy when it comes to that kind of party! But last night, I danced with all of my friends and it was memorable!! :) Last year we were like not that active in the party because it was our first time to experience it. Yesterday, I woke up early and skipped school because we have nothing to do but just watch a very boring basketball and volleyball game. Then, I checked my outfit for the night. I went to my friend's house to change my outfit and get all glammed up for the party. I can't go in the party all by myself! I'm shy =/
Nica and I arrived at school around 5:10 pm. The traffic was horrendous! I think it's because there's a lot going on in that particular date. Saint Jude Catholic School = sportsfest; San Beda-La Consolation-Arellano = Christmas party and a whole lot more! Plus, the people doing their last minute Christmas shopping. Haha! Crazy day right?
We were already entering the gate. The guard said that we look different in uniform and in our fashionable outfits. Nica was like: "Well, duh!" Hahahaha. I just laughed and I got worried about my hair. Bad hair day? I think so. Then, we saw a lot of my classmates and got nervous! I have no idea why. I'm 5'8" at that time. Thank you booties! Haha. That's my dream height. ANYWAY – Entering the auditorium, I didn't want to look at the expressions of the teachers --- awkward. But they were all smiling.
Then, we entered the venue. It was empty. Hahaha. So we just took a lot of photos inside. Met some of my classmates again and they complimented my look for the night. I was so flattered but I'm awkward when it comes to thanking people who's complimenting me. Hahaha. When my adviser saw me for the first time, she was surprised and smiled and said "DYOSAAAA!!" as loud as she can! I was a little bit embarrassed. Hahaha. And I felt awkward. But I just smiled and laughed and took a lot of photos.
Then the party started with corny games but after that the dancing begins! The music was cheesy but we enjoyed it. I was waiting for Kesha's Tike Tok and Ester Dean's Drop It Low! There was also a time someone bumped into my head. It hurts so badly until now. I felt dizzy afterwards but I don't care! Haha.
Lots of dancing. You can really have fun WITHOUT drinking or smoking and etcetera. So true.
We danced barefooted in the dancefloor because our heels were killing us. It was so much fun! After all the dancing and the like, they awarded the mock awards. I won the "highest heels" awards with four more other girls. Hahaha. So funny.
That's about it! Last night was awesome. I will never forget it.
ADVANCE MERRY CHRISTMAS! J