I attended the Philippine Fashion Week for the first time ever last May. I even volunteered to help Runway Productions. I saw a blog entry of Vicky Herrera stating that the Runway Productions needs volunteers. My sister and I gave it a shot, and besides - it was summer. The experience was stressful, especially on the first day! And FYI - It was my first time to wear heels. I love wearing sandals but as I quote Blair Waldorf...
"Sandals are not shoes!!"
Hahaha :) And my dream is to have a shoe collection... starting very soon! It was love at first sight when I saw the YSL booties. Even my mom loved it when she saw it.
Moving on... this season - Spring/Summer 2010 -- I didn't get to volunteer because of school. It was supposed to be semestral break a week ago but a typhoon hit Manila and we didn't have classes for a week, which is considered as a vacation for the DepEd people -- which is SO unfair by the way. Last Thursday, at school -- I was sitting on my desk and thinking about.. pretty much about everything!
Exams next week + summer 2010 + random stuff
. Then my classmates starts screaming and I thought they were just screaming excitedly without any reason at all so I ignored them but still curious. Then a classmate of mine handed a letter.. I read it and smiled. It was the last day of school the next day! Then semestral break until the 3rd of November!
Meaning -- Hello, Fashion Week
!! :)
The same day - I attended the
Luxewear Collection
featuring talented designers:
Alex Pigao, Anthony Cesar Ramirez, Dave Ocampo, Gil Macaibay, Herbert Custodio, Kat Corpus, Kat Sy, Kermit Tesoro, Manelle Chamian, Maricar Kobayashi, Pablo Kabahu
g, Raoul Ramirez, Ricky Abad, Roel Rosal, Ronaldo Arnaldo
. Thank you so much to Ronaldo Arnaldo for inviting me! It was a great show + front row seats. The KISS prints on the dresses were really dope and the dresses of Kat Corpus -- I love :) Plus saw Bea Soriano!
Me and my friend - Nica were supposed to be leaving after the show but we decided to stay and watch the Freego show. Our friend's sisters were modelling for the brand so we got in the guest list that fast. The Freego show was okay. Loved the lights and all those camera effects. But the clothes? Not a fan. Met Sarah Meier after the show. I was like "I'm Iza!" she was like "Oh yaay! It's so nice to finally meet you!" -- she's adorable.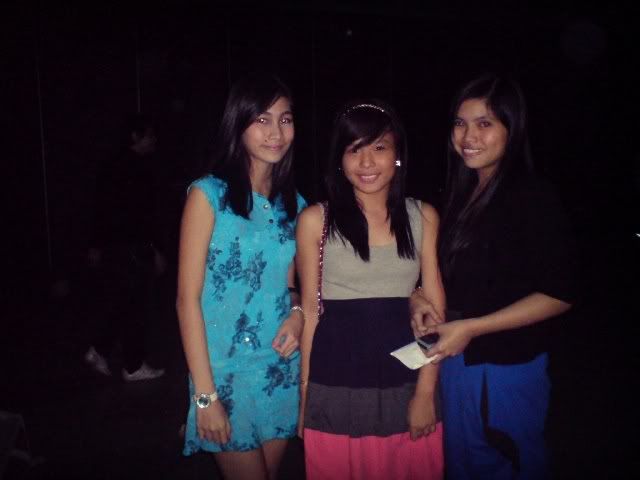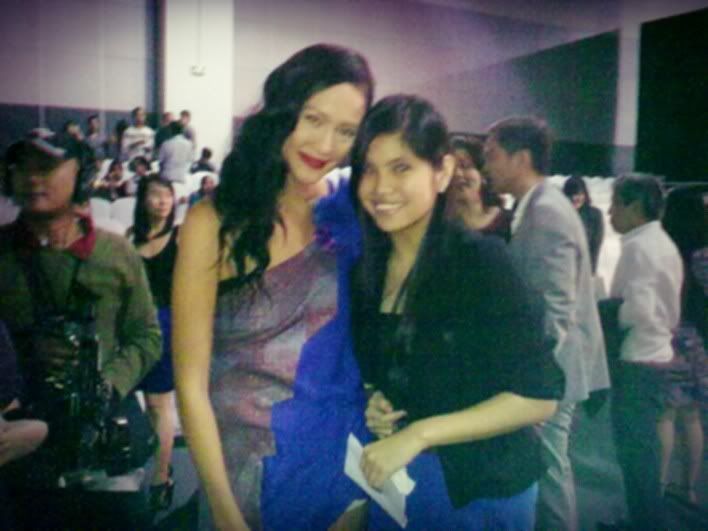 After the shows -- I was exhausted but I need to go to school the next day which sucks but it was the last day of school, so yay! I also planned to watch for Friday's show but I was too sick and sleepy to go there :-( Sore throat + the like.. So you know what I did after school? I slept for two hours which was really relaxing :) But I am sad I didn't get to see my friend walking the runway for the Crissa show. There's always a next time ;)
SEMBREAK
at last. Thanks to Sarah Meier, she signed my name to Eric delos Santos and Jerome Lorico's show. I heart her. I actually met her last season and last Thursday! She was really nice and approachable. It's so nice to see that kind of person these days :) With my sister and the best friend of my sister -- we witnessed a very very organized fashion show and it was by far - my favorite. Eric delos Santos --
bow
:)
But a weird thing happened to me that night also. There was a guy sitting next to me asking for my height and if I was familiar to Avon and Sara Lee. I should have learned the lesson "Don't talk to strangers" fuck my life. He wants me to do a VTR for their advertising agency called - COSMOPOLITAN. Days pass by and I really think it's just a scam. I am scared :( I gave my name to him. Fuck him. I hope he dies. Hahaha. Evil much? Whatevs.
I thought this was my last show. But Sarah did put my name on the Bench/Human/Kashieca show so why not come, right? I panicked because there was nothing to wear :( Which sucks bigtime. But then luckily, I saw a white long sleeved vintage top, blazer and a leggings + heels. Actually, I'm getting used to walking in heels now :) I love the feeling of being taller than your actual height. Haha! My dream height is 5'8"... I'm just 5'5" :-(
The Bench/Human/Kashieca show was really late and short but I got chills. It was my first time to see many celebrities in one sitting. I got chills and got starstrucked with Isabelle Daza -- and I thought she was ugly. Wow. I was wrong -- she's tall and gorgeous just like Georgina. Coco Martin and Jake Cuenca was good looking. Jake Cuenca waved at my friend and I with his cute smile. Then a model dude was looking straight at me when I was smiling and he smiled back. Hahaha! And I got televised because there were celebrities being interviewed and the camera was pointed to them right? ... I was at their back standing and waiting for the celebrities to come out the dressing room :| I'm a loser.